Pawsitive Partnership and Puzzles Level 1      
(Click on any picture to enlarge)

Focus Areas: Relationship, management and training. Learn when it  is the most efficient time to manage a behavior and when it is time for training. Chewing silk plants, stealing potty paper or your underwear sound familiar?  Your learning to manage these things and then teach acceptable alternatives  will lead to a wonderful relationship with your pet. You will actually teach your pet to learn and play so that you may use these advantages his entire life to create a willing attitude for any and all things you require of your fuzzy wuzzy.

Manners: We will teach your baby to greet people in an acceptable manner. She will learn to chew on her on toys and not on you. We will teach you how to "Distract and Redirect" so that if the fuzzy is barking, you will know how to show her an acceptable way in which to respond.

Description: We will teach development of communication skills from you to puppy and puppy to you. We desire to teach the puppy to learn first by teaching her the vocabulary. Your puppy has to know what the words mean before you can use them, such as; Walk with me on a leash without pulling. Pay attention to me. Leave it alone, drop it, sit, down and stand commands with hand signals for greater attention. The stay exercises. Return to me and do it happily and reliably.

We want you to feel confident and know how to keep the proper puppy perspective…we all need to maintain realistic expectations. Sometimes we think our little Einsteins are capable of soooo much that we tend to rush them to our and their disadvantage. DON'T DO IT! 

Pawsitive Partnership and Puzzles Level 2 & 3

Focus Areas: Continuation of Pawsitive Puppy Level 1 topics but toward obeying at greater distances and under greater distractions.



Description: For those who have completed a first course with us or who have had positive training elsewhere. This is continuing education. More of the same exercises geared toward control at further distances and under greater distractions. These classes can be for anyone who wants a great pet who is becoming more and more reliable and more of a joy to have around.
We do exercises is game form, sometimes to music. This allows puppy and owner to have great fun while learning to work under pressure and "lots of goin's on!!"  
Pawsitive Partnership and Puzzles Level 4 thru 6

Focus Areas: Continuing Education: Proofing, Retrieving, Jumping, off leash work, test readiness, CGC and TDI.

Description: These classes are for those who really want to continue fine-tuning and perhaps branch out into specialties such as Competitive Obedience, Agility (this is not an agility class but prepares one to have the reliability needed), Rally, et al.  We offer exercises such as jumping, retrieving, Canine Good Citizen, Therapy Dog ready work etc.. These are much more flexible classes solely depending on what the participants of that particular session want to learn.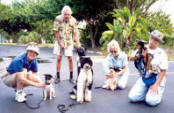 We are dedicated to the "pawsitive" betterment of the animal and the joyous participation of the owner. No choke collars or force is used. We teach the owners to properly communicate with and educate their furry friends. Come join us in school to have a wonderful time teaching your dog or puppy to learn!
"Canine Good Citizen Class"

Geared toward all the specific exercises needed to get your Canine Good Citizen Award from the AKC and testing at the end will be given by our own accredited AKC Evaluator.


Classes / Fees

Pawsitive Partnership and Puzzles Level 1 
6 Week Session -- $150.00

Pawsitive Partnership and Puzzles Level 2 & 3
6 Week Sessions -- $140.00

"I hope you and your dog will come and play together under my guidance really soon!!!! "